BRATFEST 16 COLORADO
SATURDAY, SEPTEMBER 16, 2023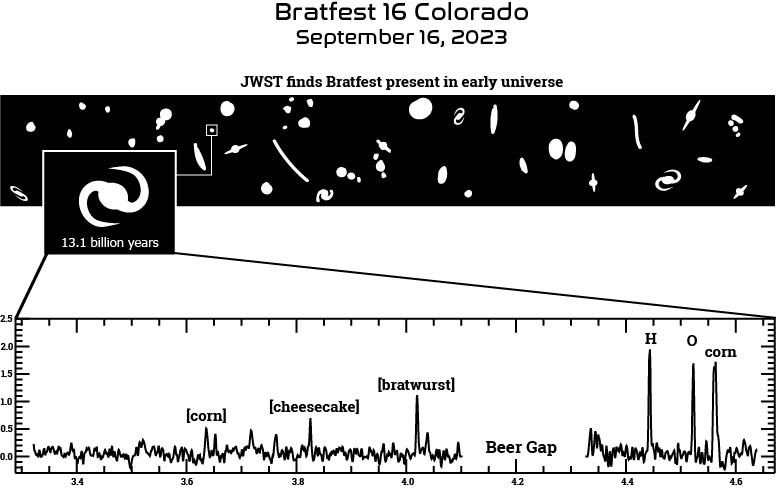 (Design and artwork by Cheryl Buie, with assistance from Marc Buie and Scott Acton)



Saturday, September 16, 2023, 5 PM onward

Guests are welcome to camp at the site Saturday night!


THOSE ATTENDING SHOULD BE FULLY VACCINATED (whatever that is for your situation) to protect yourself. Children welcome.
To protect others, please also bring your mask to use restroom indoors (not needed outside).


RSVP requested - see link below

FEATURING: BRATS! CORN! KRAUT! CHEESECAKE! BEER! MUSIC! and other taste treats.



LOCATION, since 2018 :

Home of Marc & Joan Buie & family
8244 Deer Run
Longmont, CO 80503

Between Lyons and Longmont, just north of Hwy 66.
(maps/directions below)


We suggest carooling when possible.
We also encourage camping onsite. There is plenty of room for tents.
---

RETURNING FEATURES THIS YEAR:

- New, local craft beers will be offered, after an extensive selection process

- This year we will forego live music due to logistical concerns. But there will still be plenty of music.


DETAILS


We will provide all of the food, drink, & music! Included will be bratwurst, kraut, roast corn, cheesecake, potato salad, beer, and other goodies.

We will also have commemorative T-shirts for sale.

You are invited, along with family and friends (kids welcome --- bring outdoor toys, games, or activities to share with other kids).

It is not a pot-luck or BYOB -- there is no need to bring any food/drink.

Cash donations are not required, but gladly accepted (Please help!)

We encourage you to become an Elite Bratfest Sponsor (EBS) at the level of $30 or more per family (or individual). Erika will be there to collect your donations again. Please bring cash or check made out to her.

Please note that we have not raised the suggested amount for sponsorship in the entire 16-year history. Prices of everything are rising, so we hope you can help us out with additional donations.

Sustaining memberships also available (ask us about them).

Invited will include folks from SwRI, CU APS/LASP (including students), Ball, NCAR, Lockheed, SSI, PSI, and others.
---
PLEASE RSVP
(not required, but REALLY, REALLY useful to plan): To help in the planning, it is important that we make a reasonable estimate of attendance.

PLEASE send info on whether you will attend, number of people (if you can't decide on being a sponsor, please send back the number attending anyway)

Please RSVP as soon as possible to:

If you can't/don't RSVP, you have no choice but to show up anyway.


---
Bratfest 16 Colorado T-Shirts! Bratfest 2023 Colorado shirts




You can see older designs here. To order any older shirts, go to the Bratfest 16 order link just above and go to the bottom of the form. For 2020, use the link below.

Bratfest 14 Colorado T-Shirts Bratfest 2021 Colorado shirts
Bratfest 13 Colorado - Fest in Place 2020 - First Global Bratfest (right click, open in new window) Bratfest 2020 Colorado shirts
Bratfest 12 Colorado T-Shirts Bratfest 2019 Colorado shirts
Bratfest 11 Colorado T-Shirts Bratfest 2018 Colorado shirts
Bratfest 10 Colorado T-Shirts Bratfest 2017 Colorado shirts
Bratfest 9 Colorado T-Shirts Bratfest 2016 Colorado shirts
Bratfest 8 Colorado T-Shirts Bratfest 2015 Colorado shirts - full color (still available)
Bratfest 7 Colorado T-Shirts Bratfest 2014 Colorado shirts - full color (still available)
Bratfest 6 Colorado T-Shirts Note this is a rare "wrong date" collectable item. (still available)
Bratfest 5 Colorado T-Shirts Bratfest 2012 Colorado shirts - full color (still available)
Bratfest 4 Colorado T-Shirts Bratfest 2011 Colorado shirts - full color (still available)
Bratfest 3 Colorado T-Shirts Bratfest 2010 shirts - full color (limited sizes still available)
Bratfest 2 Colorado T-Shirts Bratfest 2009 shirts (still available):
Bratfest 1 Colorado T-Shirts Bratfest 2008 shirts (still available):
---
PRINTABLE FLYER (address, no map)

PARKING GUIDE at site
Main parking areas are boxes shown in pink. Use those first, with head-in parking, and use the lowest numbered areas available. If full, go to the overflow parking, boxes shown in blue, and again use the lowest numbered areas available, but do parallel parking only.

---
HOW TO FIND BRATFEST :

HOUSE IS NORTH OF HWY 66, BETWEEN LYONS AND LONGMONT


PRINTABLE MAPS WITH DRIVING DIRECTIONS (from downtown Boulder):

From Boulder, Route A
From Boulder, Route B
From Boulder, Route C
Smaller Scale map of area
Local Map of area




OR use this Google Map link (right-click and open-in-new-window):

Google Map link